Slovak state-owned companies remain non-transparent and politicized
10.07.2012 10:08
Two thirds of the companies refuse to disclose CVs of their CEOs
The biggest state- and municipality-owned companies in Slovakia were found to be considerably non-transparent. One third of the 45 evaluated companies did not even reply to our Freedom of Information Act requests although it is mandatory for them.  Two thirds of the companies refused to disclose salaries of their CEOs and their CVs. Half of the companies refused to publish the contracts with their cleaning service providers. Three quarters of them do not have any Code of Ethics and almost 90% of the companies do not publish detailed action plans including specific performance targets. Every sixth city- and state-owned company does not have a single annual report published on its website from the past three years. All these findings follow from the first ranking of transparency of the state-owned companies that was compiled by Transparency International Slovakia.
The low level of transparency goes hand in hand with the high politicization of the companies' management. Two thirds of the of companies' supervisory board members and board of directors members are replaced within one year of the parliamentary elections. Only ten percent of these boards members last in their positions for longer than one term. Politically motivated replacements increase the inner company instability and firms tend to focus on the short-term goals than on their long-term health and quality of their services.
Source: Transparency International Slovakia, firemny-register.sk  Note: Red line – change of government
Average time that the board members spend in a state-owned company is two years. This is about one third shorter than the board members in private companies. On the other hand, the boards of the state-owned companies have more members. On average, they have over eight members while the boards of private companies only have six members. This fact suggests that there exists a political interest in creating lucrative places in supervisory boards without taking into account what would be better for the company management.
From among 30 state-owned and 15 municipality-owned companies in our ranking,  Železničná spoločnosť Slovensko (railway company) and Rozhlas a televízia Slovenska (public radio and television) placed best. Both of these companies gained two thirds of the total number of points, mostly because of the good publication of economic indicators, contracts, and invoices. On the other hand, the worst positions in our ranking were taken by city-owned companies Nitrianska investičná (attracting of investments) and MsHK Žilina (hockey club) which reached only one fifth of the total points. These companies do not publish any economic results, contracts, or annual reports on their websites.
Ethics as well as Grants and charity policy were two areas in which the companies' performance was overall very weak. When evaluating the area of Ethics we found lack of Codes of Ethics and mechanisms of whistleblowers protection. In the area of Grants, we found absence of rules for  allocation of donations, grants, or allocation of the share of company's income tax. Companies also do not disclose what are the amounts they assign in form of grants or donations, and who are the subjects who receive these donations.
There are several foreign state-owned companies from which the Slovak ones could learn from (these are mainly the Anglo-Saxon and Scandinavian companies operating in the areas of mail, logistics, or railway transportation). Nine out of ten  foreign companies publish their past three annual reports online, while we could say the same about only 56% of Slovak companies. Vast majority of the foreign companies has the Code of Ethics and publishes CVs and salaries of their CEOs. Similar standards in Slovakia are met by less than one third of state companies.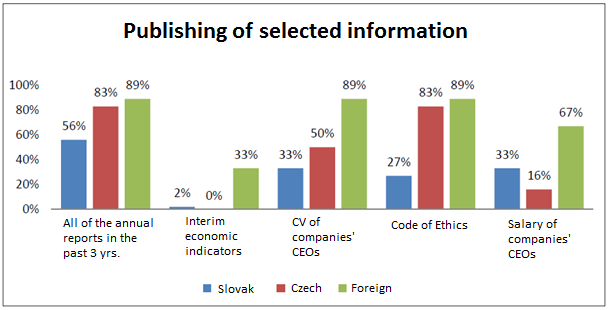 Transparency ranking of the state- and city-owned companies was created on the basis of evaluation of companies' websites, replies to our Freedom of Information Act requests, and data from external databases (i.e., quality of procurement information from the Office for Public Procurement website) In total we have compared 60 companies: 30 biggest Slovak state-owned companies, 15 Slovak city-owned companies, and 15 foreign state-owned companies (6 of them were Czech).
The project was funded by Open Society Institute.
All the results of Transparency ranking may be found on the website firmy.transparency.sk/en.
Contact: Gabriel Šípoš, Ľuba Riapošová, 02/53417207 or riaposova @transparency.sk